For many years, print service providers have based much of their success on selling business-to-business (B2B). With today's technology and media options, this means that B2B providers must have face-to-face interactions while also engaging on social media channels to build relationships. Professionals engaged in B2B ventures gather together based on common lifestyles, passions, and causes just like anyone else on the Web. This means that social networks, communities, blogs, forums, and friends/followers are useful in B2B from a brand-building and marketing perspective. The 2012 Social Media Marketing Industry Report notes that today's B2B providers really need to get social. Statistics from this report state that:
· 93% of B2B marketers use social marketing to market their businesses
· 85% of marketers reported that the number one benefit of social marketing is generating more business exposure
· 74% of B2B marketers reported that social marketing increased traffic to their Website
· 59% of marketers are using social marketing at least six hours a week
Your industry peers are leveraging several options and alternatives to build out their B2B social strategies. These include social networking, content sharing, and social bookmarking. Over the next three weeks, I'm going to share how industry players are using all three of these options to build out a loyal base of customers and attract more friends/followers.
Social Networking Defined
Social networking is the use of Internet-based social media programs to make connections with friends, family, classmates, customers, and clients. Social networking can be used to serve social purposes, business purposes, or both. The programs show the associations between individuals and facilitate the acquisition of new contacts. Key examples of social networking have included Facebook, LinkedIn, Classmates.com, and Yelp.
Social networking presents a unique opportunity for B2B companies to connect with and educate target markets in a way that Websites or blogs can't match. It is essential to come up with meaningful content that people will want to share, and that brings them back again and again.?Social media gurus typically provide four key tips for effective social networking.
1. Use Your Social Networking Presence to Demonstrate that You are an Industry Resource
With today's changing media dynamics, service providers are keeping up with industry news and maybe even writing about it on blogs. Several are hosting "Lunch and Learn" sessions or speaking at industry conferences to engage with customers. Many are also creating case studies for their Websites.
Montreal- based PAZAZZ is this content onto Facebook to make its page the go-to place for industry-specific insights and information. Founded in 1992, PAZAZZ is an offset, digital, label, packaging, and wide format printing company that competitively offers a full range of Cross-Media Integrated (CMI) solutions including QR codes and mobile Websites. PAZAZZ's Facebook page is populated with information on Near Field Communications (NFC). It discusses how customers and prospects can leverage this technology for high-impact networking. PAZAZZ's page also links to an array of industry resources, including NFC World, direct marketing publications, and vendor sites.
Figure 1: PAZAZZ's Facebook Page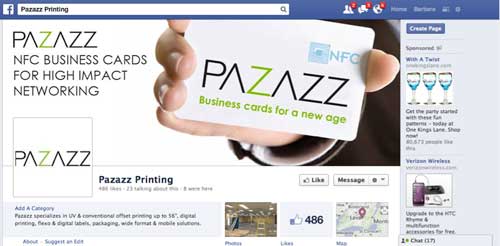 2. Keep it Engaging
In the past, your customers probably had little or no interaction with one another. Social networking tools let you engage directly with your customers so you can make them part of your marketing efforts. You can ask customers to share their successes on your wall, obtain feedback on new product features, encourage visitors to participate in contests, ask customers to recognize your staff members and reward their input with discounts/promotions, or solicit references for case studies and media opportunities to share how you are interactively engaging in cross-media marketing. PAZAZZ has launched a calendar photo contest to help customers engage with its brand. The company is asking clients to submit their favorite photos. All photos are considered for PAZAZZ's 2014 calendar, and all entrants will receive a free copy of the calendar.
Figure 2: PAZAZZ's 2014 Calendar Contest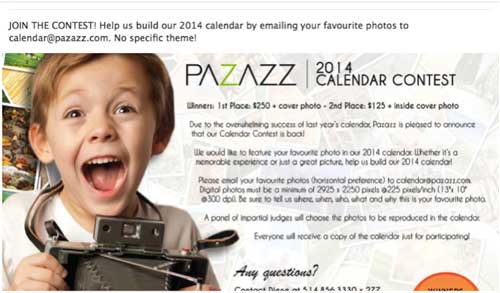 In addition, PAZAZZ promotes causes on its Website, sharing links that enable consumers to order tickets for charitable events. In addition to engaging consumers, this helps the company to demonstrate community leadership.
Figure 3: PAZAZZ Promotion for a Charitable Event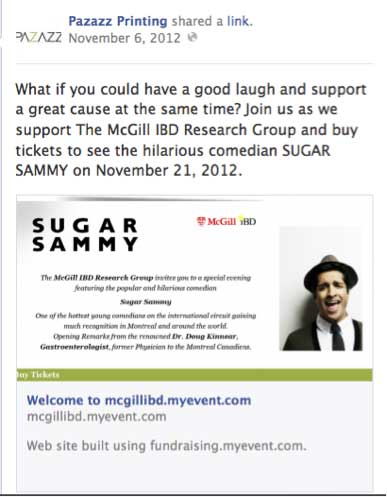 3. Expand Your Marketing Efforts
There are now a host of different applications for Facebook and other social networks that let you do more than post on your wall. For example, Vistaprint has set up a shopping tab for B2B and B2C markets that drives traffic to its e-commerce site and encourages viral sharing. The company also supports a B2C model by promoting "fan deals."
Figure 4: Vistaprint's Facebook Shopping Tab and Refer-a-Friend Program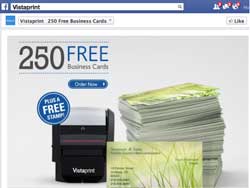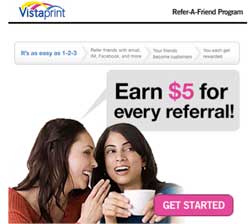 4. Have Fun!
While many of us use social networking in our day-to-day business applications, it should not be forgotten that the majority of social networkers are there to have fun and engage with friends. No matter how serious your product is, there is room for humor and levity into your page. PAZAZZ was an early user of YouTube, promoting the concept of loving print as a tactile means of communication. PAZAZZ owner Warren Werbitt took to the social media to communicate the viability of print as a form of communications in a YouTube video titled "Printing is Alive." This video is featured on the company's Website.
Figure 5: PAZAZZ's "Printing is Alive" Video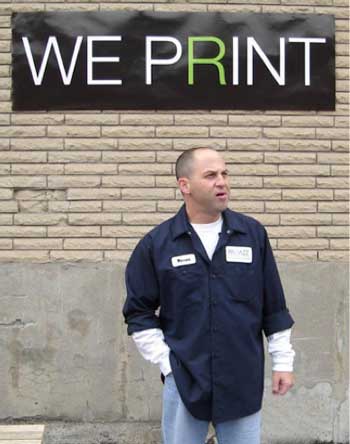 Even if you choose to keep your Website all business, social networking can bring personality to your company. You can include photos or biographies of employees who are engaged in community services or highlight the achievement of significant business milestones.
Building Relationships
Print service providers understand the importance of establishing a relationship with their clients. In today's market, this relationship involves more than face-to-face conversations. It means actively participating in the social media experience to engage with your B2B customers. Stay tuned next week, when I'll provide some examples of companies that are sharing content to drive awareness.
View the full article here: http://whattheythink.com/articles/65878-social-media-building-relationships/?p=C5096AC76AEE851FEF7C29FA93920F63A62A6CBD