Global communications firm Weber Shandwick partnered with KRC Research to conduct Digital Women Influencers, an online survey of 2,000 North American women. The purpose of the study was to gain insights into women's use of social media.

The survey finds a majority of North American women are using social media, and yet, a trend of note, a growing number of these users are disengaging.
The majority of North American women are on social media (86%), with 2.2 accounts on average.
Facebook is by far the most popular social media platform; 81% of respondents have a Facebook account.
North American women spend, on average, 12 hours a week engaged with social media.
Women who engage with social media are more influential brand advocates than women in general: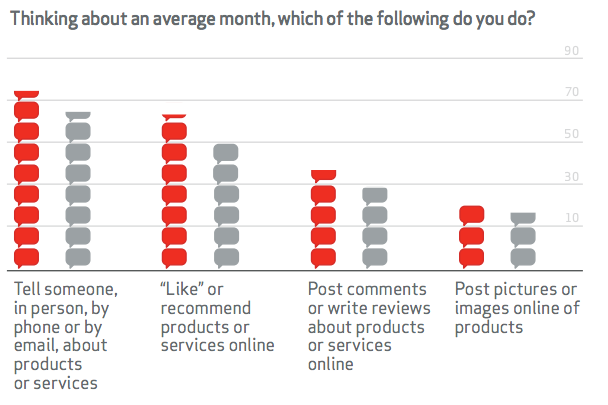 Source: Weber Shandwick, Digital Women Influencers survey, March 2013
Note: Red indicates respondents who engage with social media vs. total respondents (grey)
Nearly four in 10 North American women (38%) have decreased or stopped their usage of one or more social networks during the past six months. Top reasons:
Just not interested/lost interest (59%)

No time/too busy (35%)
Social media "defectors" are younger than total North American women (22% vs. 14%, respectively, are 18-24 years old).

Says Weber Shandwick about women self-reporting disengaging from social media, "These women are probably experimenting with new platforms and therefore more prone to shifting their allegiances. However, this is a vital demographic for social brand initiatives and "chasing" these women from platform to platform could cost marketers dearly."
About: The online research was conducted with KRC Research in August 2012 among 2,000 women, ages 18 and over, in the United States and Canada. The margin of error at the 95% level of confidence is ± 2.6 percentage points for Women of Social Media and ±2.25 percentage points for total women.
Source: Weber Shandwick, Weber Shandwick Profiles "The Women of Social Media," news release and infographic, March 4, 2013.
This article was originally published by Print in the Mix, a clearinghouse of research on the effectiveness of advertising media including print, mobile and other direct forms of marketing communication. Print in the Mix's mission is to advocate and educate for the value of print as a viable and effective ROI in the marketing strategy media mix. Print in the Mix is housed at Rochester Institute of Technology and published by the School of Media Sciences.
To view the original article, click here.